Climate and Conflict - Big Data Applications for Climate-Conflict Research and Action
Weathering Risk was presented as part the session on "Climate and Conflict - Big Data Applications for Climate-Conflict Research and Action" during the Data for Peace Dialogue series by the NYU Center on International Cooperation.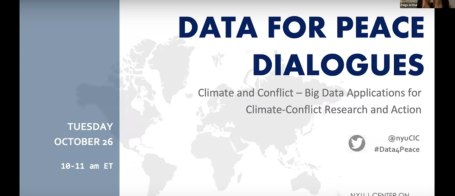 The panel discussed different ways through which the peacebuilding and prevention community can use data and data-driven approaches for climate-conflict research, prediction, and prevention.
Lea Perekrests Deputy Director of Operations, Europe & MENA from the Institute for Economics and Peace presented the findings of the recently published Ecological Threat Report 2021. Thereafter, Barbora Šedová, FutureLab (Co-)Leader at the Potsdam Institute for Climate Impact Research, introduced the Weathering Risk initiative to showcase how a mixed method approach, including climate impact analyses, vulnerability assessments, machine learning, as well as foresight and scenario planning can help to unpack the complex relationship between climate change and insecurity. Yared Lema Hurisa, Data Science Researcher at the American Institute for Research, explained the potentials of Artificial Intelligence to process and analyse the increased abundance of big data that is available for climate-conflict research.
Discussions evolved around policy recommendations and solution-building regarding the multiple climate change impacts on conflicts. The panellists, among others, pointed to the need for an increased collaboration and suggested the creation of international fora and platforms that enable systemic thinking and systemic solutions. They further recommended to consider newly evolving data sources and processing technologies when quantitatively assessing climate-related security risks.
The session can be rewatched at the NYU CIC YouTube channel via the following link: https://www.youtube.com/watch?v=GJiwBpme828